Order Online

$9.95 Flat Rate Shipping

Store Hours

Thurs: 10am-4pm | Fri: 10am-4pm | Sat: 10am-4pm | Sun: 11am-4pm
Watermelon Feta and Balsamic Pizza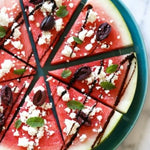 Ingredients:
1 watermelon slice, cut 1-inch thick from center of the widest part
1oz feta cheese, crumbled
5-6 kalamata olives, sliced
1 teaspoon mint leaves
1/2 cup of pomegranate balsamic glaze

Balsamic Glaze ingredients:
2 cups The Well Dressed Olive Pomegranate Balsamic Vinegar
1/2 cup brown sugar

Directions:
How to make Balsamic Glaze:
Mix The Well Dressed Olive Pomegranate Balsamic Vinegar with brown sugar in a saucepan over medium heat. Stir constantly until sugar has dissolved. Bring to a boil, reduce heat to low and simmer until glaze is reduced by half, about 20 minutes. Glaze should coat the back of a spoon. Let cool.

How to make Balsamic Pizza:
Slice the widest part of a round watermelon in half. Lay the flat side down on a cutting board and cut a 1-inch thick slice from each half. Cut each half into 4 wedges. Place them on a round dish like a pizza and top with cheese, olives, balsamic glaze and mint leaves.