Order Online

$9.95 Flat Rate Shipping

Store Hours

Thurs: 10am-4pm | Fri: 10am-4pm | Sat: 10am-4pm | Sun: 11am-4pm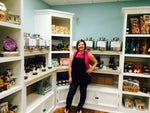 Meet the Owner
The Well Dressed Olive is owned and operated by Jane Dawley.  Jane grew up in Boston but raised her two children in Bethlehem PA, vacationing in Stone Harbor many times.

While traveling various parts of the globe, Jane discovered authentic olive oil and realized that her supermarket oil was quite different! When her children left the nest, Jane took the opportunity to move to Stone Harbor and open the store of her dreams: Olive oil and vinegars on tap from the freshest producers, happy hour foods and interesting gift ideas.

Jane and the staff pride themselves on excellent customer service with lots of laughter and food advice.