Order Online

$9.95 Flat Rate Shipping

Store Hours

Thurs: 10am-4pm | Fri: 10am-4pm | Sat: 10am-4pm | Sun: 11am-4pm
Complete this recipe with Serrano Honey Balsamic Vinegar.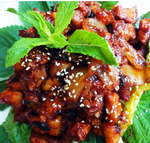 Ingredients:
1 12-16oz pork tenderloin
4 tablespoons The Well Dressed Olive Serrano Honey Balsamic Vinegar
2 tablespoons orange juice, peels reserved
2 tablespoons ginger, peeled and grated
4 tablespoons Roasted Sesame Oil
1/2 flour
6 scallions cut in 1 inch strips
1/4 cup Japanese Roasted Sesame Oil
2 cloves garlic, thinly sliced
1/2 cup corn
1/2 red bell pepper, diced
2 cup rice or rice noodles


Directions:
Cut tenderloin in 1/2 inch slices. Put slices under plastic wrap and pound with a mallet until about 1/4 inch thick. Cut against the grain into thin strips about 1 1/2 inches long.

Combine Roasted Sesame Oil, Serrano Honey Vinegar, ginger, juice, and peels in a medium dish. Add pork strips. Marinate for 3 hours in the refrigerator. Remove from marinate and reserve. Pat pork dry with paper towels. Put flour in a plastic bag and toss pork strips until they are lightly dusted. Discard excess flour.

Heat 1/4 cup Roasted Sesame Oil in a frying pan and saute pork for a few minutes. Add scallions, garlic, vegetables and the reserved marinade. Reduce to a sauce (2-4 minutes). Remove peels if desired.

Divide previously prepared hot rice or noodles onto four plates. Top with pork and sauce.