Order Online

$9.95 Flat Rate Shipping

Store Hours

Thurs: 10am-4pm | Fri: 10am-4pm | Sat: 10am-4pm | Sun: 11am-4pm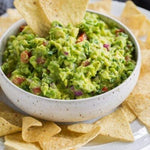 Ingredients:
4 ripe avocados, peeled and mashed
1 tomato, diced
1/2 cup red onion, diced
1 serrano chili pepper, minced
Sea salt and pepper to taste
1 tablespoon The Well Dressed Olive Persian Lime Olive Oil
Juice of 1 lime
Optional: add feta cheese to taste


Directions:
In a mixing bowl, combine avocado, tomato, onion, feta (optional) and chili pepper. Mix until blended. Add salt and pepper to taste. Stir in The Well Dressed Olive Persian Olive Oil and lime juice.
Serve with warmed tortilla chips, fresh vegetables or as a side to your favorite Mexican dish.
Complete this recipe with The Well Dressed Olive's Persian Lime Olive OIl. Find Persian Lime Olive Oil here.