Order Online

$9.95 Flat Rate Shipping

Store Hours

Mon & Tues: Closed | Wed-Sat:10am-6pm | Sun: 11am-5pm
Complete this recipe with Serrano Honey Balsamic Vinegar.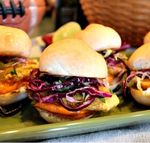 Ingredients:
For the Slaw:
1 cup shredded savoy cabbage
1 cup shredded red cabbage
3 tablespoons The Well Dressed Persian Lime Olive Oil
2 tablespoons The Well Dressed Olive Serrano Honey Balsamic Vinegar
2 tablespoons fresh cilantro, chopped
2 scallions, thinly sliced
Salt and fresh ground pepper to taste

For the Oysters:
1 dozen select oysters
3 tablespoons cornstarch, seasoned with salt and pepper.
2 eggs, beaten
1 cup cornmeal
1/4 cup The Well Dressed Olive Mild Intensity Extra Virgin Olive Oil, your favorite
1 dozen slider rolls
1 cup mayonnaise (good quality store bought or homemade, even better)
1 tablespoon smoked paprika
Wax paper

Directions:
To make the Slaw:
Add all slaw ingredients in a medium bowl and mix well to combine. Set aside.

To make the Smoked Paprika Mayonnaise:
In a small bowl, combine mayonnaise and smoke paprika for sliders. Mix with whisk for about one minute.

To make the Fried Oysters:
Place oysters in a colander to drain. Dredge oysters in seasoned cornstarch; dip in beaten egg, allowing excess to drip off before coating with cornmeal. Place oysters on wax paper lined plate and cover with plastic wrap. Refrigerate until ready to pan fry. Prepared up to 2 hours in advance, as the chilled oysters will absorb less oil while cooking.

Heat the olive oil in a medium sized saute pan until very hot but not smoking. Pan fry 6 oysters at a time until golden brown, roughly 1 minute each side. Place oysters on a paper towel to drain while cooking the other 6 oysters.

Slice 12 slider rolls in half horizontally, brush with olive oil and toast, cut side up, on a half sheet pan in the oven for about 3 minutes at 375 degrees F.

To Serve:
Top bottom half of toasted sliders with 1 tablespoon of smoked paprika mayo, one pan fried oyster, and 2 tablespoons of serrano honey-lime slaw. Place other half of toasted slider rolls on the top to finish and secure with an extra long sandwich pick.